Please join us on Sunday April 30 to meet and mingle with HHHers past, present, and future!
12:00 – 1:30 pm at Commodore Park   3330 W Commodore Way
Our telescopes will be set up at Commodore Park where you can observe the colony and yes, noisy chicks will have hatched!
2:00 – 5:00 pm at Urban Family Brewing   4441 26th Ave W.
Urban Family Brewing has graciously donated their space for our Hangout! Come join us to reconnect, reminisce, and celebrate this milestone. Funds raised from a small art sale, native plant sale, and silent auction — including $1 for every beer sold, will be donated to our Web Cam installation effort!
Everyone is welcome at this all ages event!
Free light refreshments, cake, and lemonade will be served.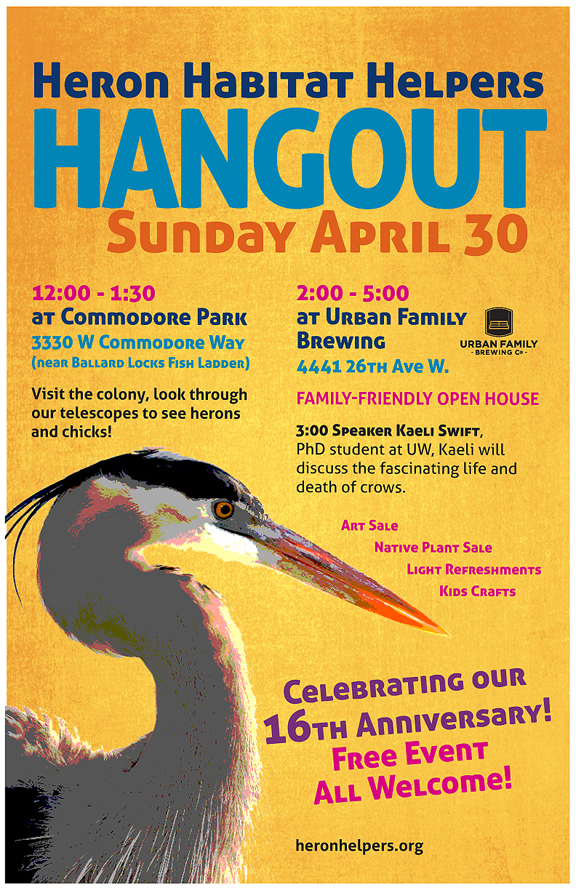 This event is as much a celebration as it is a Volunteer Appreciation for the thousands of volunteers who have weeded and planted, written grants and letters, attended City meetings, served on our 100% all-volunteer board, educated groups, monitored colonies, and shared their time, energy, and enthusiasm to protect precious wildlife in our urban environment. We could not have done it without you!