Volunteer with Heron Habitat Helpers on Green Seattle Day • Saturday November 12
Green Seattle Day is the biggest party of the year – join hundreds of volunteers planting thousands of plants in parks throughout The Emerald City. All community members are welcome!
Volunteer with Heron Habitat Helpers. We'll be weeding, trail clearing, and planting at Commodore Park and our other restoration sites in Magnolia – and of course, having fun at the same time. Coffee, tea, and light snacks provided.

Sign up today: http://seattle.cedar.greencitypartnerships.org/event/8628/
Questions: info@heronhelpers.org
Interested in working in other parts of the city?
Check out the full list of events:
http://greenseattle.org/get-involved/green-seattle-day/
Saturday, October 22, 2016
Native Plant Sale
10am – 4pm • Kiwanis Ravine Overlook
36th Avenue West & West Ohman Place
(Near Discovery Park, Magnolia)

Help herons and our environment by planting natives in your own garden!
Do you want to attract more birds and butterflies to your yard? Planting a rain garden or looking for drought tolerant plants? Not sure what to plant in a shaded or sloped yard?
Check out the wide variety of plants from Go Natives! Nursery.
Native plant expert Don Norman will be on hand to offer advice and suggestions.
Your purchases also support Heron Habitat Helpers' restoration and public education efforts.
We can deliver larger plants and trees!
See you there, rain or shine!
Saturday, June 25, 2016
See the herons before they leave the nest
1:00 – 3:00 pm
The heron chicks are growing – almost the same size as their parents. The nests are crowded and noisy, as the "teens" strut their stuff and test their feathers, getting ready to fledge. They'll fly from the colony at the end of June – July, leaving a stillness in the trees. Herons live independently after that, and can often be seen flying around Seattle, and fishing by shorelines, and ponds.
Join us Saturday, June 25 from 1:00 – 3:00 pm at Commodore Park. We'll have our telescopes set up and will be ready to answer your questions. The event is free and open to all. Invite your family and friends ad learn about Seattle's Official City Bird!

Saturday, April 30, 2016
Heron Chick Birthday Party!
1:00 – 3:00 pm
Join us at Commodore Park near the Ballard Locks Fish Ladder on the Magnolia side. We're celebrating the birth of over 30 heron chicks! We're serving birthday cake, and will have telescopes set up to observe the chicks and their quirky tufted hairdos. Come hear the cacophony as they chatter for food!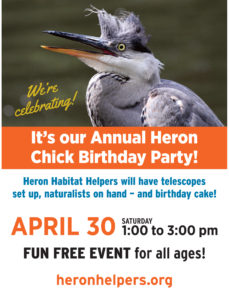 Friday, April 22, 2016
Earth Day Restoration Party
9:00 am – Noon
Show the earth you care! Think big and act local by participating with HHH and other like-minded people who will weed, plant, and mulch at our three restoration sites. No experience is necessary and it is open to all ages. So grab your office mates, school group, friends, or just yourself – and sign up today! We will provide tools and light refreshments. Join us at Commodore Park near the Ballard Locks Fish Ladder on the Magnolia side.
Contact workparty@heronhelpers.org for more information
Tuesday, April 19, 2016
HHH Annual Board Meeting
2:00 – 4:00 pm
This year we will be holding our Annual Board meeting at the home of one of our Board Members. We will elect the new Board, discuss the colony, and upcoming events and work parties. The public is invited to attend.
If you have ever wondered what we do, and what opportunities there are to get involved, please join us. Contact us at info@heronhelpers.org for more information and the meeting location.